A Case Study by ARaymond - with Full Tilt by BCI 
Recent projections for the future of the U.S. solar market have been mixed. While some analysts expect solar-power projects to hit a new record high in 2022 (with utility-scale solar nearly doubling last year's projected gigawatts, according to S&P Global Market Intelligence) others are not as certain.
One reason for the predicted growth points to the decades-long trend of decreasing costs of PV solar systems, now the least expensive source of new electricity generation. Another is that the recent spike in fossil fuel prices makes renewables that much more attractive. However, supply-chain and logistics constraints are concerning others, who point to rising prices and project delays across the solar market. For example, the Solar Energy Industries Association and Wood Mackenzie's U.S. Solar Market Insight report suggest a drop in solar deployments is more likely, with a prediction of up to a 25% decrease in projects this year.
"Until recently, the cost of utility-scale solar systems — and their key components - trackers, inverters, and especially modules — have decreased dramatically over the last 10 years or so… by as much as 90%,"shares Scott Dailey, strategic advisor for ARaymond Energies, which designs and manufactures PV solar fastening, grounding, and assembly hardware. "This has led to surging solar energy deployments all over the country, in both red and blue states. But there is one exception. Although most items have trended steeply downward, construction labor costs have been going in the opposite direction."
Dailey says construction labor issues not only affect the levelized cost of energy (LCOE) and overall project costs but can also impair timelines and budgets, particularly for utility-scale solar projects.
Depending on the project, dozens to hundreds of workers are typically required for DG or utility solar installations, which are often in remote locations. "In west Texas, for instance, you're competing for labor against horizontal drilling and/or fracking projects," he says.
"If you look at a pareto chart of utility solar construction costs, module install labor is typically the number one item on the chart. Not only that, but module install typically gates overall construction velocity, which can have meaningful consequences in terms of penalties for delays or incentives for hitting milestones," explains Dailey.
"Technology that can save cost while de-risking construction velocity is a game-changer."
Module clamps are a bit mundane, but the ARaymond clamps directly address labor as a key pain point, and are also more owner-friendly, offering superior reliability, vibration damping and NO torque checking, resulting in dramatically reduced cost of ownership. They are also automation friendly.
In other words, minor changes to small components can make a big difference to the bottom line. And this is where ARaymond excels.
SAVING TIME & COSTS
With more than 150 years of experience designing, engineering, and manufacturing assembly systems, ARaymond is dedicated to developing innovative solutions that improve installation ergonomics and reduce costs.
One example: ARaymond Energies' clip fastener systems, which allow PV panels to snap easily into place without the need for labor-intensive nut and bolt solutions, significantly reducing assembly time. In turn, this speed and simplicity positively impact the demands on installers, as well as the profitability of the solar project as a whole.
ARaymond's PowAR® Family — which includes the PowAR Cinch and PowAR Wedge clips — provides a variety of snap-together solutions for fast solar-module assembly, while eliminating costly O&M. These corrosion- free products have been tested by independent laboratories and validated by major PV module manufacturers.
They're one of those small components that make a big difference, simplifying solar installations for reduced project timelines and lower overall costs. Just ask BCI Engineering, a manufacturer of industrial steel parts for various industries — and at one time, the largest contract manufacturer in solar tracking.
In spring 2021, Full Tilt by BCI successfully launched its own turnkey fixed-tilt racking system. A few months later it announced a strategic partnership with ARaymond, which incorporates the PowAR Cinch and PowAR Wedge clips into current solar projects.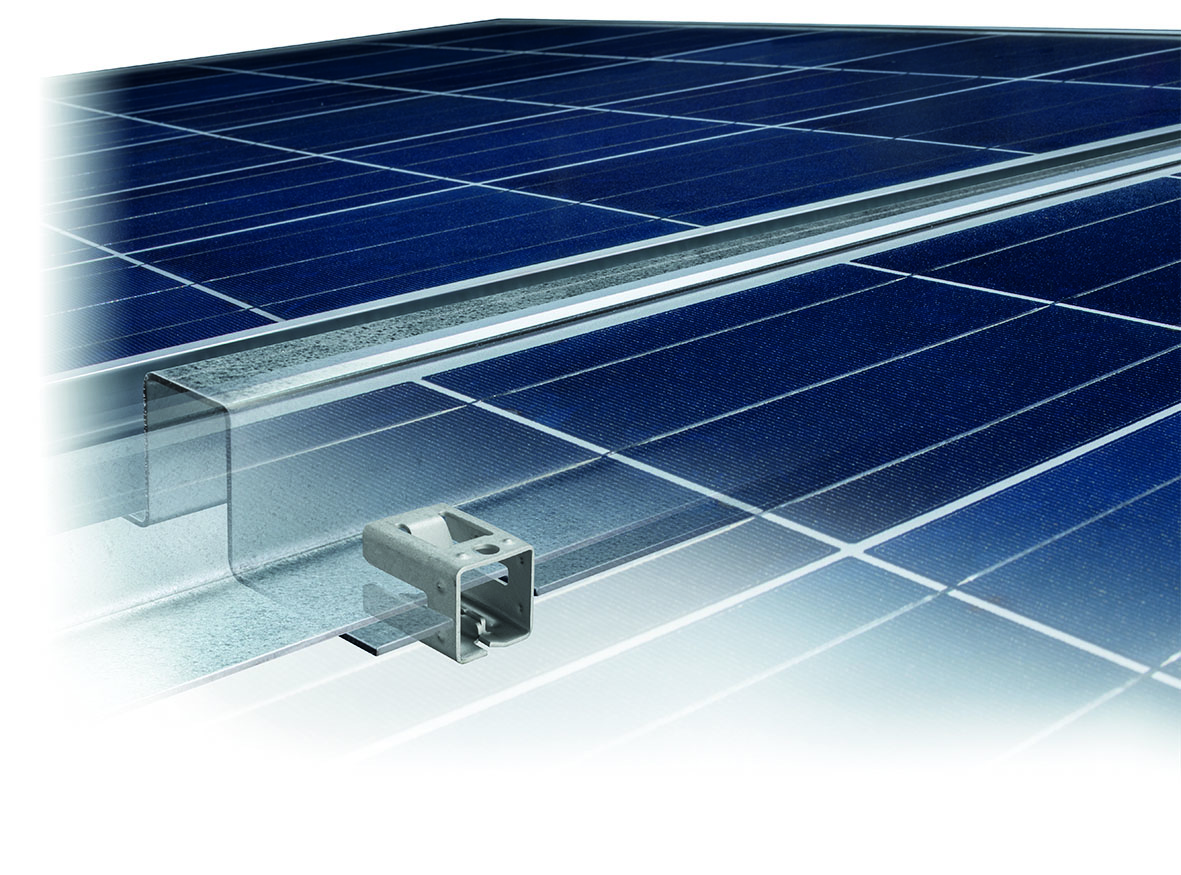 PARTNERING FOR SUCCESS
With more than 30 gigawatts of solar racking delivered as a contract manufacturer, backed by decades of engineering and global supply-chain experience, BCI decided it was time to develop its own fixed-tilt solar racking solution, specifically designed to take out construction and installation costs. Full Tilt represents an innovative yet straightforward design with fewer parts and fast, safe installation.
"Given our extensive history in the industry, we were well-aware of the features developers and EPC contractors were looking for in a solar system," says Chris Bartley – VP Business Development BCI Engineering. "We placed a heavy emphasis on creating a racking design that could simplify and speed the installation time. And we left no stone unturned in terms of our research and adding value to the final product."
This meant optimizing every part of the racking system to ensure an efficient and cost-effective design, including its hardware.
"We knew that there were these fastening systems emerging in the tracker space that could increase the speed of module installation to the racks," he explained. "Fortunately, our design engineers had worked with a few types of cinch-like clips previously and provided us with some products to consider."
Bartley says ARaymond's name immediately stood out as a company with a well-known and successful presence in several sectors, including automotive and renewable energy.
"Their experience in the automotive sector was relevant to us simply because it's a QA/QC-intensive industry, meaning the product testing measures are extremely high," he says. QA/QC refers to a product's quality assurance and quality control. "There's also reliability testing within the solar industry, which is significant to investors, developers, banks, asset owners, and so on."
For the team at Full Tilt, ARaymond's reputation for quality assurance and strong testing standards added a level of confidence.
"We knew they would never put a product on the market unless it was highly dependable," he added. "So, we tested out their PowAR clips during the prototyping and R&D for our racking system and the pairing of the products together proved immensely beneficial," he says. "I can honestly say that these sturdy, high-speed module fastening clips from ARaymond are the best I've seen to date."
A PERFECT MATCH
So, what makes the PowAR solar-module clips so effective?
They're incredibly fast to install, for one. Unlike threaded fasteners, which typically require multiple parts including nuts and bolts, there are few components to navigate. And the quicker the installation, the fewer the labor and overall project costs.
"This is a non-technical analogy but think about two pieces of metal, which are back-to-back, and held together with a super-strong paper clip," explains Dailey. "The PowAR Cinch clip serves as the paperclip, only its much stronger. But it's also that easy to fasten."
"We have time studies that showcase just how effective the clips were with the Full Tilt," adds Bartley. "I mean, it's always project-dependent, but a 30 to 40% reduction in labor compared to some other available solutions on the market is certainly achievable in many cases."
The PowAR Wedge system for First Solar Series 6 modules is even faster with 50% fewer clamps , according to Full Tilt. The wedge is just as simple to use as the cinch clip, fastening two adjacent solar modules with a single clamp. The ideal choice depends on the type of module installed.
In fact, the company has already successfully employed the PowAR Cinch clips on a 200-kilowatt pilot site and has closed 33 additional megawatts of international projects that will also include ARaymond products.
What's more, is the PowAR clips fit unbelievably well with the Full Tilt's design. It's almost as if they were made for one another. The Full Tilt's racking system uses two longhorn panel rails with roll-formed edges. Essentially, these "horns" guide the solar modules into the correct position and notches serve to align and lock them in.
"The notches also happen to serve as the ideal locations for installing the cinch clips," says Bartley. "This perfect fit has been the cherry on top for us. It made the idea of exclusively partnering with ARaymond a must."
A few other benefits that sealed the deal for BCI: ARaymond's clips offer anti-corrosion protection so they're reliable regardless of the weather conditions. They also eliminate the need for additional tools or torquing fasteners.
"Just imagine the conventional method where the installers must cart around a big bag or box of nuts and bolts. They're typically hand-pushing the bolt through the holes in the module frame and panel rail. Then, there's the threading of the nut and final fastening with a torque gun," says Bartley.
This is tedious and time-consuming work that often takes a toll, ergonomically, for most installers. "And think about how many loose fasteners must accidentally get dropped or lost at these project sites?" he asks. "Over time, it adds up."
"Also, most threaded fasteners will lose some of their clamping force over time because of environmental conditions, vibration, and/or thermal expansion," says Dailey. "Installers typically have to mark where the nut is relative to the bolt and the structure, so it's possible to later visually inspect any changes — this necessary maintenance trip and expense, is eliminated with the PowAR clips."
They also ensure a reliable hold for an assembly that can last decades.
"For most projects, they should last for 35 or 40 years," continues Dailey. "The clip's ability to reliably clamp into the metal rack means it will not budge. Also, the clips have features that penetrate the anodization layer of typical aluminum frames, creating a robust electrical bond. This is required by code and extremely important from a safety standpoint to ensure no dangerous voltage build-up."
Ultimately, the partnership between Full Tilt by BCI and ARaymond Energies is a win-win-win — and, mostly, for solar developers, EPCs, and project owners.
"All I can say is that we are seeing an unprecedented reduction in module loading and fastening times with our racking systems, thanks to ARaymond's PowerAR solar- module clips," says Bartley. "The powerful combination of our two products will deliver tremendous value and we're honored to bring them to the solar market."
And the combined Full Tilt fixed-tilt racking system and PowerAR Cinch clips should make a positive difference in terms of the ongoing growth of the solar market.
ABOUT BCI/FULL TILT
Full Tilt by BCI was built with the installer in mind and is the latest advancement in fixed tilt solar racking technology.
With over 30GW of solar racking delivered as a contract manufacturer and backed by decades of engineering and global supply chain experience, Full Tilt represents an optimum fixed tilt racking solution. The system boasts an innovative yet straightforward design with fewer parts and rapid installation features along with manufacturer direct pricing. For more information, visit www.full-tilt.com