Rayvolt® is a fast and easy grounding clip to ensure conductivity between aluminum frames and electrical sheathed cables.

Quick and easy set up
• Just one single action required to cut wire insulation, connecting the wire and fixing it to the frame.
• Free positioning on frame and regarding distances between modules.
Efficient
• Mechanically and electrically: complies with product norms iec61730-2:2007, iec60947-1:2007 and en60068-2-11: 1999¹.
Large scope of use
• For all modules with aluminum frame thickness from 1,5 to 2,5 mm and multi-strand flexible cable cross section of 6 mm² (h07v-k6 mm²).
Download the datasheet from our download center
¹ Test report from bureau veritas available on demand.
Text
ARaymond Energies offers a large range of metal and plastic clips, straps and modular adapters for attaching cables over, along or on the side of module edges or rail structures, in order to improve cable routing.
Image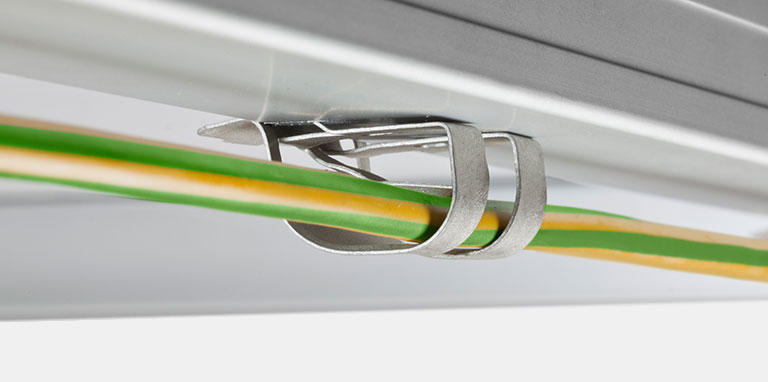 Easy to use
• Tool free installation.
Robust
• Metal parts with surface treatment adapted to corrosive environments ¹.
• Galvanic couple reduced with aluminum.
Multipurpose
• For supports with thicknesses from 0,7 to 4 mm: can fit on module edges or on structure.
• For cables 4,6, 10 mm² section or strands.
Ease the cable maintenance
• Possibility to re-open the clips.
Download the datasheet from our download center
¹ According to terms and conditions defined by ARaymond.